Past, Present, Future
Edit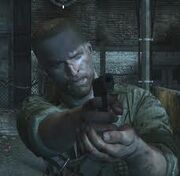 This man has a history with war.He was on his way to fight another war, when he was dispatched back home and heard about a virus. This man keeps a gun anywhere handy, and don't get on his bad side, or he'll put a bullet down your throat.
&nbsp Running Speed- Up to 10 mph
Jump Height- 3 feet
Abilities
Edit
Dempsey has abilities that boost his personal stats, his powers include:
Enhanced agility
Enhanced reflexes
Enhanced speed
Enhanced Assassination
Enhanced Balance
Body Heat camouflage
Favorite Types of Guns
Edit
Sniper Rifles
Shotguns
LMG
Hanguns
Favorite Guns
Edit
Dragonuave
Stakeout
HK21
M16
Ad blocker interference detected!
Wikia is a free-to-use site that makes money from advertising. We have a modified experience for viewers using ad blockers

Wikia is not accessible if you've made further modifications. Remove the custom ad blocker rule(s) and the page will load as expected.