Clíodhna
(
Clídna
,
Clionadh
,
Clíodna
,
Clíona
, but sometimes
Cleena
in English) is a Queen of the Banshees of the
T
uatha Dé Danann. In Irish literature, Cleena of Carrigcleena is the potent banshee that rules as queen over the sheoques (fairy women of the hills) of South Munster, or Desmond. She is the principal goddess of this country. It is said the wails of the banshee can be heard echoing the valleys and glens at night, scaring those who hear as the wail of a banshee is potent and instills fear in good people.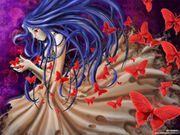 In some Irish myths Clíodhna is a goddess of love and beauty. She is said to have three brightly coloured birds who eat apples from an otherworldly tree and whose sweet song heals the sick.
Banshee Physiology
Fear Inducement
Love Manipulation
Supernatural Beauty