Nothing is known about the god from literary sources, and details about his name, his cult or his significance in Celtic religion are unknown. Speculative interpretations identify him as a god of nature or fertility. 1st centuary carvings depict label a god depicted with stag's antlers in their early stage of annual growth. Both antlers have torcs hanging from them. The god labelled C
ernunnos
on the carvings in history depict a man with stag's antlers in their early stage of annual growth. Both antlers have torcs hanging from them. The lower part of the relief is lost, but the dimensions suggest that the god was sitting cross-legged, providing a direct parallel to the antlered figure.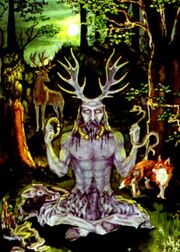 Cervid Physiology
Enhanced Tracking
Fertility Inhancement
Monetary Manipulation
Nature Manipulation
Ad blocker interference detected!
Wikia is a free-to-use site that makes money from advertising. We have a modified experience for viewers using ad blockers

Wikia is not accessible if you've made further modifications. Remove the custom ad blocker rule(s) and the page will load as expected.